We have new job openings at Anglesey Outdoors.
Assistant Instructor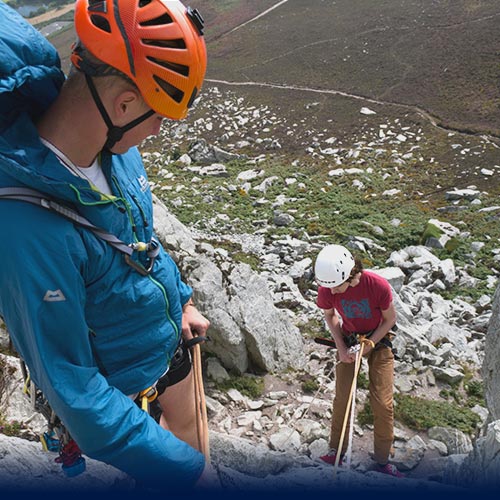 We are looking for three aspiring instructors to join our team at Anglesey Outdoors, North Wales. The role start with an intensive 12 week fast track training scheme. Following this you'll spend the season working alongside our full time and freelance instructors delivering adventure activity sessions, the day to day running of the centre and associated tasks. You will have a real opportunity to develop a career in the outdoor industry by assisting and delivering sessions, taking part in a comprehensive training programme, completing NGB courses and gaining valuable experience in all areas of working for an outdoor adventure organisation.
- CLICK TO OPEN / CLOSE MORE DETAILS
ASSISTANT INSTRUCTOR - APPLICATIONS CLOSED
Please note this vacancy has been closed since 19/10/2018.

We expect to be running a similar programme in 2020, which will be advertised in September 2019. Revised details and the 2020 application form will be posted at that time, and please do not apply before the new details are published.

This is an opportunity to join our adventure activity team in a role designed to develop your skills and get you going as a real adventure instructor. If you are interested in this for 2020, we have kept the details for the 2019 application online to give you an idea of how the application process works.
About us
Anglesey Outdoors is situated near the beautiful and rocky coast of Holyhead, on the tip of Anglesey, North Wales. Our location is superb for any coastal activities, with Porth Dafarch, a beautiful sandy cove amongst rugged cliffs only a 5-minute walk away. You can kayak, swim, coasteer, rock climb, paddleboard, snorkel, or sail all within a couple of minutes of the centre. We are also only a 35-minute drive from Snowdonia National Park, with its stunning rivers, mountains and cliffs. The area is an outdoor adventurers dream, and with being on the fringes of the mountains, Anglesey Outdoors enjoys loads more sunshine than only 30 minutes away inland and is free from the torment of midges!

The centre itself is a wooden chalet style 70 bed building, with a real alternative feel and vibe, including creatively used recycled pallet wood featured as parts of the furniture, and a nice open plan main area and communal spaces for our clients to relax and to meet new people. In addition to the main centre, in our 14 acres of green space grounds, we have a number of yurts, what we call 'Eco Dens', Glamping Pods and 'Cabans'. We have plenty of green space dedicated to camping which is popular with scouts and holidaying families. We have a bar and bistro for guests and visitors to share stories in the evenings and get a decent home cooked meal for a good price. And of course, we have our stores area for the outdoor department. We try to be as environmentally friendly as we can be with solar arrays on the roof and on the land, and we're heated entirely by biomass.

Our ethos at Anglesey Outdoors, is to be the hub of activity for people with an interest in the outdoors, whether they want a fully guided experience on adventurous activities, or a comfortable and functional place to stay for their own adventures. We greet all our guests with a smile and offer them the best local advice and service from our team of enthusiastic outdoors people. With the activities, we believe in real adventure experiences. We run nearly everything off site in exciting places and give our clients the real deal.


Your Role
The first 12 weeks of this package comprice a fast track instructor training programme focussing on rock climbing, kayaking, SUPing and Coasteering. You will take part in various NGB and in house training courses. If you then invest your own time in consolidating these skills you will progress to assessment courses in due course. In previous years we have taken non-climbers to being competent leaders at grade Severe in just a couple of months.

Following this period of training and consolidation, over the summer season when we are at our busiest, you will be fully involved in leading and assisting of activity sessions. You'll always have experienced people on hand to offer guidance, and to answer any questions, and we will make sure you are totally happy to begin taking the lead and working as a mentored outdoor instructor in the adventurous work environments we thrive in.

Outside of the activity department, at times when we have fewer activity days there are a number of other roles at the centre that you will be expected to get involved with. These will include manning reception, customer check in's, bar work, kitchen work, kit checks and maintenance, cleaning, grounds keeping and maintenance.

Our centre is constantly developing, and there are several projects ongoing at any one time. We welcome ideas and enthusiastic people taking a lead, so anything that applicants can bring to the table is of great interest to us. Some ideas might be: Social media posts, blogging, video work, photo work, problem solving activity development, sourcing different client groups, themed weekends or courses... The list goes on!

There may also be opportunities to work overtime hours when needed for extra pay.


Working Times
This placement will start the 4th of March and run through to the end of October. At that time there may be potential for the right candidates to continue working at Anglesey Outdoors either as freelance instructors or as contracted staff. Working hours and days off will be irregular as the work is so varied and fluctuates with the seasons. You will be contracted to work 15 hours per week, however expect to be offered overtime shifts to increase this to an average of 40 hours per week with and have two days off. We will accommodate time off requests as best as possible around this.


Experience
This is a trainee position, and as such you will gain a lot of experience in the outdoor sector. This will be in working with groups, administration, personal skills, equipment etc. We will work to develop your hazard management skills, soft skills and coaching, technical skills through a combination of in house training, NGB training and through mentoring by highly qualified instructors.


Qualifications
You will gain several qualifications as part of this role, including:

RCI Training and Assessment*
Paddlesports Leader award
NNAS bronze, silver and gold navigation awards
Basic food hygiene
BCU 1*, 2* and 3*
VHF radio course
Safeguarding course
Water Safety Award - WRT Pro Rescue 3 award/Beach Lifeguard
16hr Outdoor First Aid award
CRB/DBS Check

If you show the right attitude, commitment and personal skills, there is opportunity to expand on this list of qualifications if it will benefit both yourself and Anglesey Outdoors. This may include RCI assessment, so you can run climbing sessions, paddlesport leader or other awards.


Salary
This role is a paid position of £70 per week after deductions (tax, NI and accommodation). This will be reviewed after 16 weeks and if you are able to deliver sessions may increase. Previous trainee's with high performance standards have received a £25 per session additional pay rate for each session they lead, on top of their weekly wage.


Influence over the Centres Development
As a reasonably small centre you will actively be making a difference to how the centre develops.


Use of Equipment
We have a range of equipment at Anglesey Outdoors which you may make personal use of to encourage you to gain experience in time off.


Uniform
We will provide Anglesey Outdoors branded tshirts and hoodie which you will be expected to wear whilst working and all PPE relevant to your role.


Kit Deals
We have trade deal partnerships with many providers of outdoor equipment, many of these allow discounted purchases for staff. A privilege of the job is being able to benefit from these partnerships.


Fun Working Environment
Many people dream of having work that both challenges and excited them, as an outdoor instructor this is the reality, and this will open doors to many future work opportunities within the industry.


Paid Holliday
You will be entitled to 28 days of paid holiday per annum pro rata to be booked in advance around the centre needs.


Bonus Equipment
When signed off / qualified to deliver different activities you will be eligible for activity appropriate equipment / PPE. Once signed off to run coasteering sessions you will be bought a wetsuit for your personal and professional use.


Accommodation and Board
This position comes with accommodation and you will be expected to live in whilst in this position. (Local applicants please contact us to discuss this).

The accommodation will be a sole occupancy caravan. These caravans have electricity and basic cooking facilities. The toilet and showers are separate in a nearby block.

Food is provided in a number of forms, depending on what is happening at the centre at the time. When catering in the main centre, food is provided here, or when you work shifts in the bar / evening reception shift you can eat at the bar. If the centre is not providing catering and the bar is closed (weekdays in the down season (Feb to April), there is food you can help yourself to and you will always have access to kitchen facilities). Guests are welcome to visit and to stay with you. We ask that you let management know in advance. We can also offer 'mates rates' in the centre for family and friends visits.


The ideal candidates will have the following qualities
18+ UK resident or legally allowed to work in the UK.
Have good people skills or be willing to develop these.
Enjoy being in the water.
Show an interest in rock climbing, paddlesports, and other outdoor activities.
Expect to be getting out in the outdoors in time off and evenings to develop skills and gain experience.
Be computer literate and willing to get stuck in to site maintenance, centre roles, kitchen shifts or bar work if required.
Desirable Extras are:


Have a car driving license
Be a competent lead climber (to register for RCI award)
Be a competent boater/SUP'er Have any outdoor qualifications




ASSISTANT INSTRUCTOR - APPLICATIONS CLOSED


Please note this vacancy has been closed since 19/10/2018.



Please do not complete this form and apply for any roles.


This form is only visible to outline application specifics which may be useful to anyone considering applying for 2020.

To apply, please complete the Anglesey Outdoors Assistant Instructor Application Form 2018 (below) and e-mail it back to Tom or pop it in the post to:



DOWNLOADS





(Applications close 5pm Friday the 19th of October 2019)



Invites to interview will be made by 5pm Friday October the 26th.

Interviews will be held weekend of Friday November the 30th (aim to arrive by 5pm) through to Sunday the 2nd of December (expect to be able to leave by 5pm).

Please be mindful that this is a full time seasonal live in position with flexible working hours, and the possibility of limited time off in peak season. There is an expectation that you will spend a significant amount of your free time and days off by gaining personal experience in a range of outdoor pursuits. Whilst this does not inhibit anyone from applying, please consider whether this role is achievable for you considering existing commitments.

If you want to discuss this opportunity, please call Greg or Tom on , or e-mail

You will receive a confirmation of receipt of any application forms within 3 days of receipt. If you do not receive this, please ensure you get in touch again as we may not have received your application.